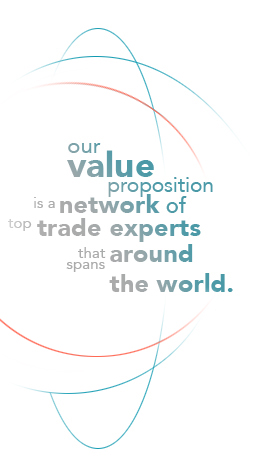 At the core of our value proposition is a network of top trade experts that spans around the world.
We are able to provide our clients with a tailored team of exactly the experts needed to work together for relevant solutions to often complex trade issues. Many of our experts are former government officials that have been key figures in resolving trade issues and negotiating successfully important trade agreements. Pooling their joint expertise and experience allows our clients to 'trade-up' on their efforts to promote their business over borders and successfully engage in international trade.
The experts in our network are located in different places around the globe. Many of them are living and working in Europe, others are in the US, Latin America, Asia and New Zealand. Their joint experience covers a huge part of the world. We are constantly expanding our expert pool – in many cases we have added particular expertise to our network following client demand.